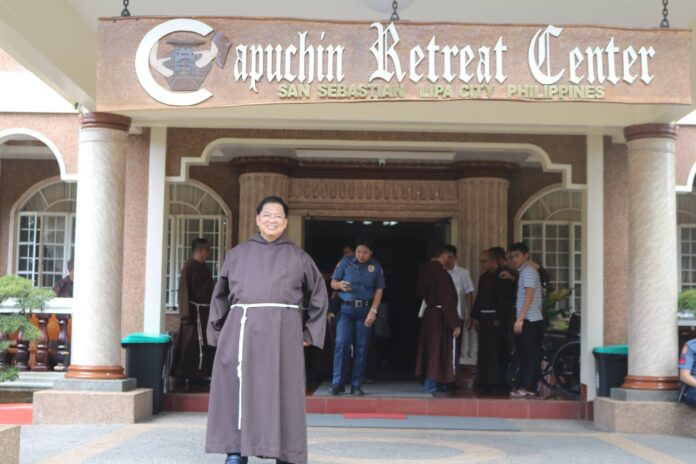 Br. DOMINGO C. VELASCO, Jr., OFMCap. was born on November 8, 1950 in Bacuit, El Nido, Palawan. He entered the Capuchin Novitiate in Tagaytay City on May 17, 1973 and had first profession on May 18, 1974. He finished his philosophical and theological studies at the Divine Word Seminary, Tagaytay. He had solemn profession on May 21, 1978 at Lourdes Church, Quezon City. He was ordained to the priesthood on June 12, 1978 at the Sta. Teresita del Niňo Jesus Parish, Quezon City.
Br. Domingo served in various responsibilities in the Philippine Province and these include work in fraternal animation, formation, parish ministry, assistance in education and provincial administration.  As formator he ministered as postulant director in the Postulancy which was then located at the St. Francis of Assisi Fraternity Pulo, Cabuyao (1979-1983).  He was later assigned as novice director at the St. Felix of Cantalice Novitiate, Baguio (1990-1997) and Professor at Our Lady of Lourdes Seminary, Lipa (1989-1990; 1997-2021).  Apart from formation he also engaged in parish ministry, being assigned as assistant parish priest of Our Lady of Lourdes Parish, Tagaytay (1979); St. Anthony of Padua Parish, Singalong, Manila (1988-1989) and parish priest of Sta. Teresita del Niňo Jesus Parish, Q.C. (1983-1988). He also helped in the Guidance Counseling office of Lourdes of Quezon City (2008-2011).
His most significant contribution to the Province is his work in the establishment and operations of the Human Formation Office. This institution functions to assist in the formation of candidates to the Order in their psychological, emotional, spiritual and personal development as they progress in the initial formation stages. This office also serves perpetually professed brothers who are in need of special assistance such as guidance and counseling. To prepare him for this important task, he underwent post graduate studies in Psychology at the Centro Escolar University, obtaining his master's degree in 1998 and doctorate in 2004.
For many years, Br. Domingo faithfully served the Lord and the brothers through his fraternal solicitude, guidance and erudition which he selflessly shared and imparted. He has touched the lives of the brothers who underwent the formation program of the Province; helping them to realize and value the gift of the Capuchin vocation. Many friends, collaborators and parishioners also remember his zeal in the priestly ministry as he assiduously worked to help in the spiritual growth of the faithful.
Br. Domingo welcomed sister death on April 9, 2021 at San Lazaro Hospital, Manila. His demise is a painful event for the Philippine Province but in spite of this; we commend him to the loving embrace of the Lord who now welcomes him in his bosom. May Br. Domingo rest in peace.