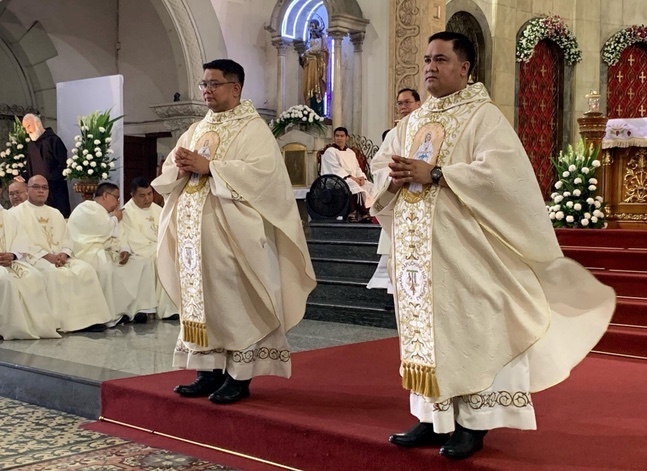 September 14, 2019 – Feast of Exaltation of the Cross. Today, the Lord was not only glorified by His cross but also by the two newly ordained priests Rev. Fr. Anthony C. Almazan, OFMCap. and Rev. Fr. Jeffrey G. Torres, OFMCap. The National Shrine of Our Lady of Lourdes was filled with excitement and joy as the entrance procession began with the spirit-filled opening hymn led by the El Shaddai Choir.
The holy event was graced with the presence of Bishop-Emeritus Teodoro C. Bacani Jr., D.D. the presider pf the Eucharist and ordination and with the presence of Capuchin concelebrating priests, brothers, religious of different congregations, benefactors, friends and guests. In his homily, Bishop Bacani spoke that the two ordinandi are being honored in the celebration as well as God who called them and ordains them. He addressed the two future priests, telling that their ordination is not given to them to have an easy and pleasurable life but to suffer, to bear the cross of Christ and the sufferings of the people of God. He ended by reminding them that the Blessed Virgin Mary who was with Christ from His incarnation to His passion will also be with them in their priestly ministry.
The solemn rite of ordination immediately followed after the sermon. After the laying of hands and the two newly ordained priests were welcome with joyful hearts and applause. The celebration continued with the Liturgy of the Eucharist. After the final blessing, Fr. Anthony and Fr. Jeffrey, filled with the Spirit, expressed their deep gratitude and thanks to all who journeyed with them and helped them respond and receive the grace of serving the Lord as Capuchin priests. The overflowing joy continued at the Lourdes School grounds with the festive buffet lunch.